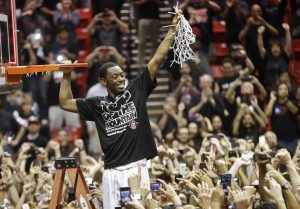 San Diego had a serious case of Aztec Fever this year. And, with good reason.
San Diego State University had one of its best basketball seasons ever, boasting a 31-5 record. The hometown guys won the Mountain West regular-season championship and reached the NCAA Sweet 16 for the second time in the last four seasons!
The 31 victories rank as the second highest in program history. The conference title is the school's league-best eighth crown and the regional semifinals appearance is the farthest the Aztecs have advanced in their Division I history. Go Aztecs!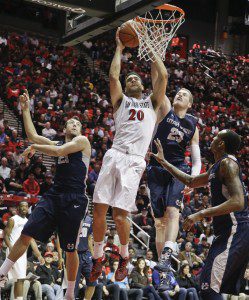 As sports excitement continues to ripple through the community,  Westpak is thrilled to offer scholarships for three rising basketball stars to the 2014 Steve Fisher Individual Skills Basketball Camp at SDSU.   The camp is designed to help players be more comfortable with the fundamental skills of the game, as well as develop their ability to play competitive team basketball.  For more information on the Steve Fisher Basketball camps, click here.
Scholarships awarded to boys from Murrieta Mesa High School include Bryan Phan, a junior and starting varsity point guard, who is 6-foot-2,  165 pounds, with a 3.2 GPA.  Davon Sanders, a starting shooting guard going into his junior year, is 6-foot-3 with a 3.0 GPA.  Davon received all league first team honors this past year.  Finally, Brandon McIntosh is a freshman who will be the starting power forward for the varsity team next year.  He is 6-foot-4 and maintains a 4.0 GPA.   All three scholarship recipients are interested in playing at SDSU because they  believe the Aztecs have the best basketball program in Southern California. We agree.
Stay tuned for updates about the boys' camp experiences later this summer!