Whether you're a resident of California or not, you've likely heard about our drought that is one of the worst on record.  The lack of water is reaching critical levels which have an impact on all of the United States through the food supply chain. In times like these, it is our duty and privilege as responsible community members to do our part to reduce our consumption of natural resources.
This last Wednesday, Governor Jerry Brown has mandated a water usage reduction by 25 percent throughout the great state of California. This drought affects everyone across the state, and here at Westpak, we see it as a part of our intrinsic practices to be more conscientious of our water consumption and ways of reducing it.
In the fall of last year, Westpak invested in our community by overhauling our landscaping to drastically reduce water consumption. If you are familiar with our San Jose office, a large grass lawn lined the front of the building along Great Oaks Blvd.  In line with our core values as well as our ISO 14001 Environmental Certification, Westpak removed all of the grass, approximately 8,000 square feet worth.  This was replaced with drought friendly landscaping.  Westpak expects to reduce our landscaping water usage by 60-70% per year.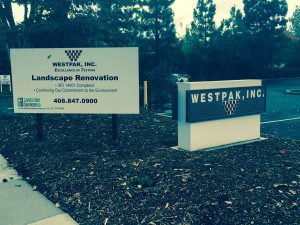 Our partner on this endeavor was GB Landscape Services who quickly and successfully completed the work.  The Santa Clara Water District approved and encouraged the project prior to commencement.
We look forward to watching our new plants grow this spring along with our prosperity and that of our friends and customers.  Make sure to keep an eye out for Westpak's 2015 Open House to see how we're blooming!
Join Westpak by playing a larger role in water reduction! Visit Water: Use It Wisely for great tips to reduce usage in your own business, home and daily routine. More information about the California Water Plan can be found on the government website. In addition, specific regulations can be found  on the state's Waterboard website.