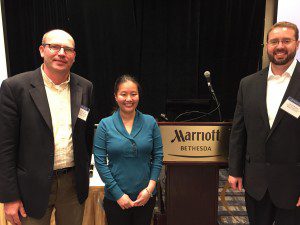 Q1 Productions put on their second annual Medical Device Packaging Conference in Bethesda, Maryland this year, and one of our very own was invited as a presenter, Katie Tran! This 2-day conference was filled with informative and fun topics with presenters from ISTA, ASTM International Committee, Endologix, and Edwards Lifesciences to name a few. The focus of this conference was on innovations in design and testing, so Westpak was incredibly honored to have Katie be involved and present her expertise in our field!
Katie, our Laboratory Manager in San Jose, presented best practices for mitigating potential packaging pitfalls. She also served as a panelist to answer testing questions from the audience. Her presentation acknowledged the problems that many companies and engineers face when designing packages. The three most commonly observed testing failures include compression, concentrated impacts and gross leak detection (bubble leak). Katie pointed out the ASTM and ISTA performance testing standards that aligned with each of these three tests complete with pictures and the overall scope of how these tests work.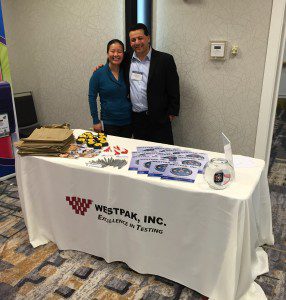 While Katie did an amazing job at discussing the issues of many package designs that she runs into during testing, she also offered solutions and tips to avoiding these problems.
Compression package failure? Design the shipper with flutes that are vertical when the package is in the most stable orientation! You could also increase the board strength, change to double-wall, or use corrugated inserts.
Got a leak in your packaging pouch? Reduce the pouch size and add a biaxial nylon layer to provide puncture resistance! With simple fixes such as these, engineers can reduce their frustration while saving time and money.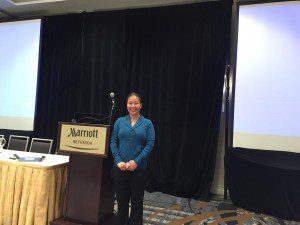 Katie's knowledge and expertise shown through in her presentation and we are thrilled that she was able to participate and present to the conference attendees! Thank you for all your hard work, Katie!
If you think you could benefit from some insight on packaging design and how to avoid these kinds of pitfalls, please contact us on our website and we'd be more than happy to assist you!