On a fine fall morning, seven training professionals representing TransCen, Inc. toured WESTPAK's San Jose test lab. Their primary objective of visiting was to gain an understanding of the types of positions and qualifications necessary in the niche product and package test industry. Secondarily, they wanted to see applications of math and science.
It was the first time seeing a test lab for each of the guests. They observed several of these test machines in operation: drop testers, loose load, incline impact, compression tester, vibration test machines, environmental chambers, hail impact, salt fog chamber, accelerated aging chambers, product drop tester, and more.
They were introduced to instrumentation such as accelerometers, calibration equipment, machine control systems, chart recorders, data collection systems, and similar.
Our guests were able to ask a few of the engineers and managers typical interview questions such as "What's your background? How long have you worked here? What do you like about your job?" Encouraging responses from our diverse group of Owners came forth.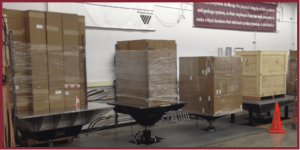 Our guests had hoped to observe math and science on the tour; WESTPAK didn't disappoint! There are applications everywhere in the test lab environment.
Clearly, a test lab is where it all comes together: amazing products and package systems created by creative people being tested and evaluated by an equally-amazing and creative team of test professionals.
Tour group members asked questions about WESTPAK's recruiting, job openings, various positions, process documentation, data collection, test equipment, material handling, audits, and more.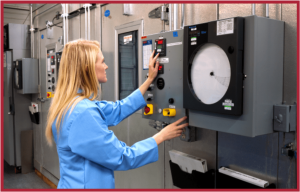 Several WESTPAK team members chatted briefly with the tour group as they passed through the lab and shared their "WESTPAK likes". The guests noticed that people at WESTPAK enjoy their work!
About TransCen, Inc. "a non-profit organization dedicated to improving education and employment success of youth and young adults with disabilities" and believes "employment and active community participation are attainable for all individuals, regardless of disability or other perceived barriers to employment."