Westpak's Core Values were front and center stage recently as our President and CEO Herb Schueneman mentored 12 year old Chand Duggal on his Science Fair Project. As a long time adjunct professor at San Jose State University, Herb has long embodied the core values "Pursue growth, learning and understanding." When approached by young Chand for Westpak's assistance in his science fair project, Herb jumped at the opportunity.
Chand is an exceptionally bright and talented sixth grader from the Stratford School.  His science fair project focused on the tensile strength of graphene, which is an allotrope of carbon. Known for its strength, ability to conduct heat and electricity and very low weight, Graphene is a two-dimension material only one atom thick. Chand's hypothesis was that graphene would be stronger than aluminum, as measured by tensile testing.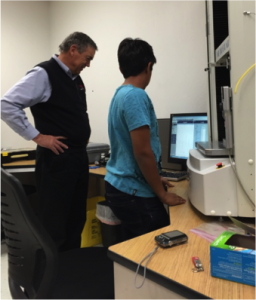 Herb, along with Lab Manager Katie Tran, showed Chand how to use one of Westpak's universal tensile and compression test machines to separate 1" wide strips of graphene at a rate of 1.0 inches per minute. Chand's hypothesis held true, as the graphene performed superiorly to the aluminum test samples.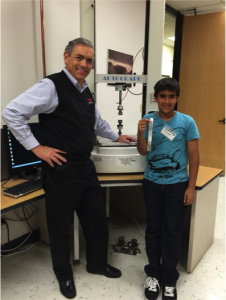 Chand earned 100% on his project from his teacher, Mrs. Anu Toutem. This allowed Chand the ability to enter the Alameda County Science and Engineering Fair in March. Herb – a lifelong teacher and mentor at heart – told Chand that his "enthusiasm and dedication to this investigation is worthy of recognition even if you never entered the science fair."
Herb and Katie were honored to pay it forward and assist this bright young man with his successful project.
We wish Chand Duggal the best of luck in the future and hope to see his budding engineer again! Click here to request information or support for your project today.