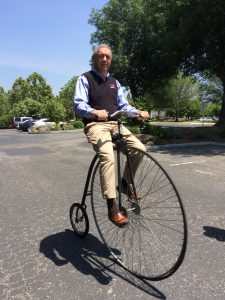 On a warm, sunny day in San Jose, our Westpak team members came to work as usual, but this time on two wheels instead of four. May is the celebration of Bike To Work Day, a part of the League of American Bicyclists' National Bike Month. The Bay Area held its 22nd annual Bike To Work day on Thursday, May 12th and Westpak employees brought out their bikes large and small! One of our bike enthusiasts, Tres Wood, rode his 25 year old penny-farthing (a.k.a. highwheeler, ordinary or boneshaker) into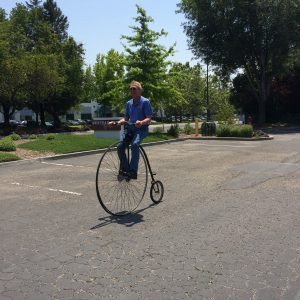 work.
The differentiation between the names is quite interesting: it's called the penny-farthing due to the size difference of the wheels corresponding to two different size coins. It also goes by highwheeler for obvious reasons, as well as ordinary to distinguish it from a geared bike. Due to the quality of the ride, its other, slightly more frightening nickname, is the boneshaker.
Tres found this bike in 1986, up for sale in the Denver Post classified ads and swapped the owner for a nice mid-level racing bike. Tres was kind enough to allow several other employees a ride on one of his most beloved bikes. Even our Chairman of the Board, Herb Schueneman, was brave enough to take a ride around our parking lot on this amazing two-wheeler!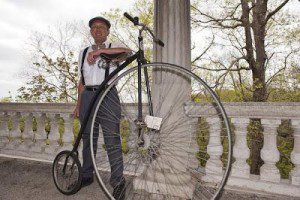 Bike-to-Work Day in the Bay Area tallied more than 100,000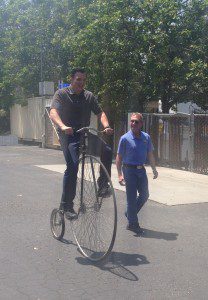 participants and Westpak is proud to be a supporter of this event! You can check out some photos of bikers in the Bay Area on May 12th from the Bay Area's Bike To Work Day website. We're excited to support biking to work throughout the year and maybe even riding Tres's other bikes in 2017!