Education is about giving youth the opportunity to learn. While students and a teacher in a classroom is the traditional image of education, learning can come in many different forms. One of these is a career fair, allowing students to gain exposure to a wide array of job opportunities available to them as they pursue their educational goals.
On March 12th, one of our Test Engineers was able to represent Westpak at a career fair held by a local community partner, Barrio Logan College Institute (BLCI). Students were able to ask questions, gain insight, and learn more about expectations before, during, and after college. The event was a great opportunity for students to learn more about different types of careers available within their communities, and the skills and education they may need to pursue to turn their goals into reality.
There were over 30 students that attended the event, ranging from Elementary School to High School Seniors. Professionals from many different fields including engineers, doctors, police officers, politicians and others manned booths to speak with the students about their positions and education backgrounds. We were excited to share a table with the Vice President of Product Security for Qualcomm, who also serves as the Treasurer for BLCI's Board of Directors.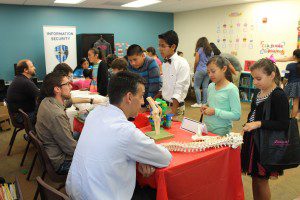 The career fair was fun and engaging for all the students who attended. The younger students had a worksheet to complete and also a scavenger hunt checklist. The scavenger hunt was a great meeting opportunity for students to interact with the professionals who may not be on the top of their lists for career choices. Students asked questions about job responsibilities and how education played a role in their career.  The High School students asked the professionals a wide array of questions while focusing on their interests and curiosities. The favorite question of the day was, "So, do you actually use all the math equations that they make us learn?"
BLCI focuses on helping students who are on their way to becoming first generation college students in their families. The program ensures that 100% of its students enroll in college upon completion. The facilities at BLCI are quite incredible, including classrooms, study rooms, a full size gymnasium, outdoor fields, as well as several others for the students to use. BLCI has been a community partner with Westpak since 2013, partnering in opportunities such as mentoring, volunteering, and donations.
The career fair was an amazing way for us here at Westpak to engage with more youth in the San Diego area and speak with them about how math and engineering are used every day. We are excited to continue our partnership with BLCI and support the wonderful work that they do in San Diego!  Check out BLCI's mission video to be inspired by the impact that they're making in Barrio Logan.