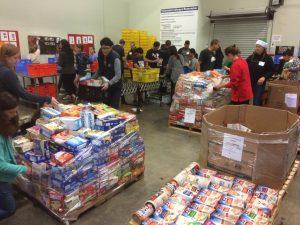 The end of the year is always a good time for some reflection – what we accomplished, what our challenges were, and what impact we made in our own lives and the communities in which we live. This holiday season, Westpak's two sites went out into our communities, volunteering with a couple of great organizations that give back to San Diego and San Jose.
Westpak San Diego partnered with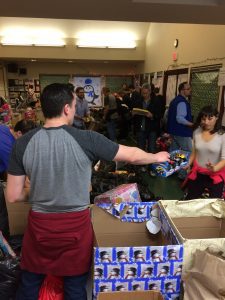 Feeding San Diego to support the redistribution of reclaimed food. We learned that over 60% of grocery store food is thrown out because of aesthetics – punctured boxes, defective seals, minor labeling surface abrasions, and the like. That is a considerable percentage – consider boxed and packaged food as well as produce! So over several hours, our team visually inspected packaged foods, re-taped any good products, sorted the food, and then wrapped the reclaimed items onto pallets for distribution to the San Diego community. Volunteering in just a short time span, our group was able to reclaim 2,560 pounds of good food! We had a great time using our packaging skills to support Feeding San Diego's efforts.
Feeding San Diego has been doing great work in our community for several years and has handful of programs that focus on kids, families, and seniors throughout the county. They also have several ways to get involved through monetary and food donations, volunteering as well as advocacy and partnerships. They accommodate groups of all sizes and ages, so we encourage you to take a look at the opportunities out there to support FSD.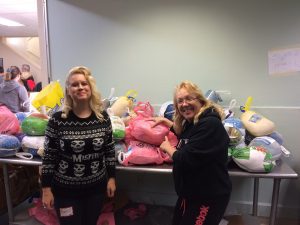 In San Jose, we spent our time volunteering with Sacred Heart Community Service, supporting two of their initiatives. At Sacred Heart, our group was split into smaller teams that focused on different points in their operations: some of employees volunteered sorting and packaging produce, others accepted donations from community members, while others helped community members box up their food to take home. Our team was also able to help sort donated toys for the holidays –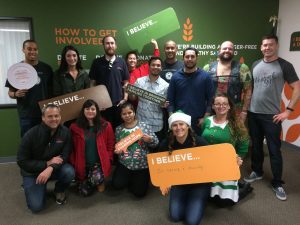 families come to Sacred Heart to pick out three toys for their children during the season.
We are happy to support Sacred Heart in their continued investment in the San Jose community. Their busiest time of the year is January and February and like Feeding San Diego, accommodate corporate groups and initiatives, families and kids! You can find a way to donate your time or host a drive to collect items!